EXPRA (Extended Producer Responsibility Alliance), Pro Europe, and ECESP are three European organisations that work in the circular economy and recycling, and Ecoembes is one of their members (European Circular Economy Stakeholder Platform).

The Extended Producer Responsibility Alliance (EXPRA) is a European organisation established in March 2013 with the goal of defending Extended Producer Responsibility (EPR) in the field of packaging, i.e., the environmental protection and prevention duties imposed on those in charge of putting packaged goods on the market, from the design stage through to the point at which they become waste and require management. The EXPRA systems are run on non-profit, open, transparent, and highly effective environmental, economic, and social principles. They are governed by the industry itself. 
  
EXPRA has 26 members, including: Fost Plus (Belgium), Valipac (Belgium), EKOPAK (Bosnia and Herzegovina), ECOPACK (Bulgaria), Éco Entreprises Québec (Canada), Green Dot Cyprus (Cyprus), EKO-KOM (Czech Republic), ETO (Estonia), RINKI (Finland), HERRCO (Greece), Öko Pannon (Hungary), Icelandic Recycling Fund (Iceland), TAMIR (Israel), CONAI (Italy), VALORLUX (Luxembourg), PAKOMAK (North Macedonia), Greenpak (Malta), Afvalfonds Verpakkingen (Netherlands), Green Dot Norway (Norway), Eco-Rom Ambalaje (Romania), Envipak (Slovakia), SLOPAK (Slovenia), Ecoembes (Spain), Ecovidrio (Spain), FTI (Sweden), and CEVKO (Turkey).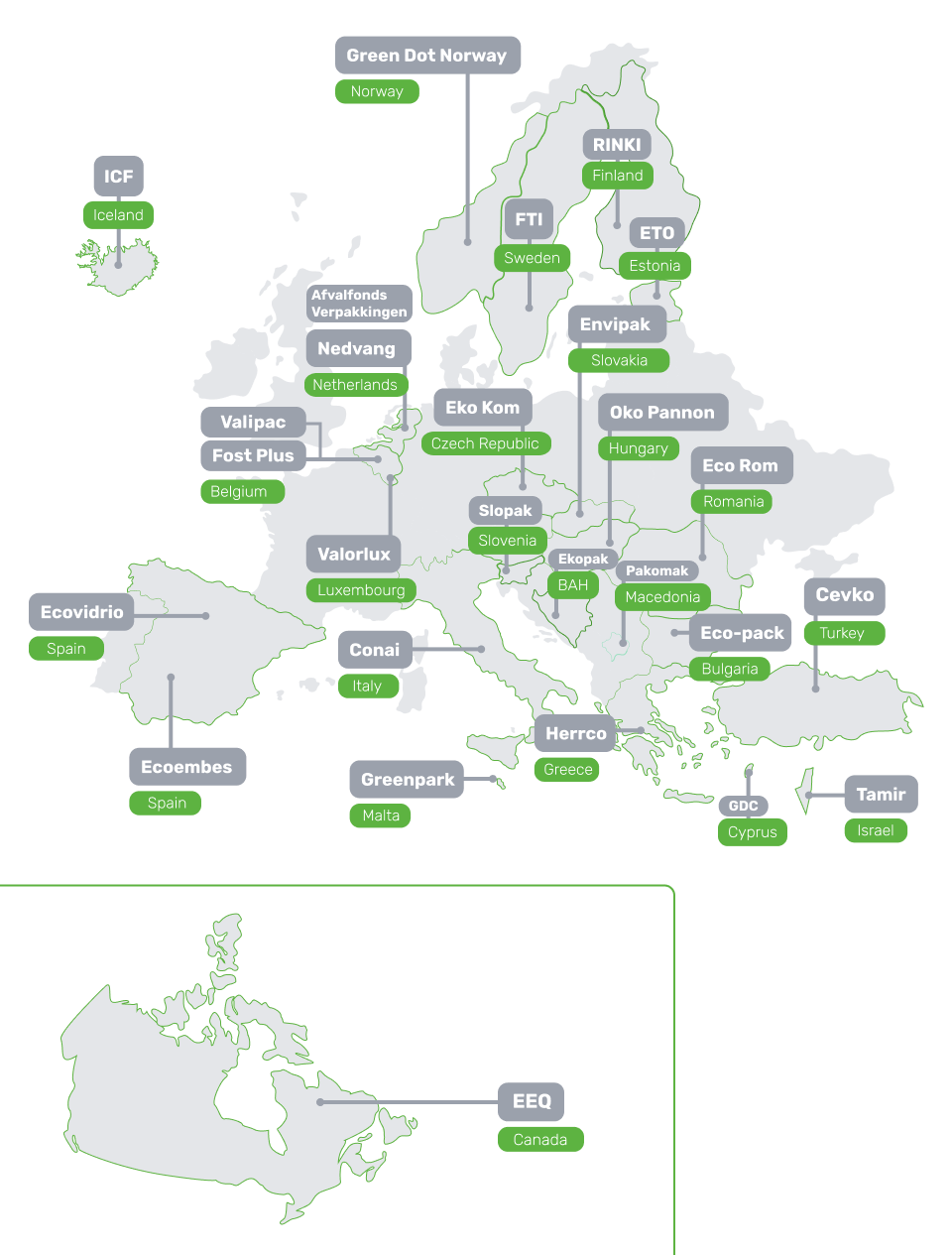 The goal of Pro Europe, a 1995-founded organisation in Europe, is to preserve and maintain the "Green Dot" sign and to give licenses for its use to national Extended Producer Responsibility systems for packaging. The Green Dot is presently a registered trademark in 170 nations, and 170,000 businesses have been granted permission to use the mark.

The European Commission and the European Economic and Social Committee established the ECESP (European Circular Economy Stakeholder Platform) in March 2017 to facilitate the sharing of Member States' Circular Economy policies, best practices, and expertise. The Commission uses a virtual platform and a 24-person coordination committee, of which Ecoembes has been chosen to be a member, to carry out this knowledge sharing. Companies from the public and private sectors, as well as non-governmental organisations, make up the coordinating group. 
 
By fostering innovation within the Circular Economy at the first Spanish Circular Economy laboratory, TheCircularLab, a pioneer in Europe in the field of packaging and its recycling, Ecoembes participates in it as well as other elements of it.