This website uses technologies such as cookies, pixels and local storage systems to facilitate navigation. Below, we explain what a cookie is, the cookies we use, the purposes for which they are used and the available options to control or delete them. 
General information on Cookies
A cookie is a small file that saves Internet configurations. It is downloaded from a browser during the first visit to a website. Cookies allow websites to offer customised services (i.e., remembering a session login or showing relevant content).
Cookies configuration and deletion
It may allow, block or delete cookies installed in your device by configuring the options of your internet browser. In case of blocking them, it is possible certain services requiring its use may not be available for you.

Below, we offer links where you may find information on how to activate your preferences in the main browsers:
Google Chrome (https://support.google.com/chrome/answer/95647?hl=es)

Mozilla Firefox (http://support.mozilla.org/es/kb/cookies-informacion-que-los-sitios-web-guardan-en-?redirectlocale=en-US&redirectslug=Cookies)

Internet Explorer (http://support.microsoft.com/kb/196955/es)

Safari (http://support.apple.com/kb/HT1677?viewlocale=es_ES)

Chrome for Android (https://support.google.com/chrome/answer/2392971?hl=es)

Cookies Flash (http://www.macromedia.com/support/documentation/es/flashplayer/help/settings_manager07.html)

If you want more detailed information on cookies, you may use the option "Help" in your browser or visit www.aboutcookies.org. To delete cookies on your mobile device, you will have to check the instructions manual of said device.
Cookies that are used on the Ecoembes web
To be able to offer you a customised experience, this website uses cookies. Each time the website is used, cookies are transferred or accessed. None of the cookies used in our website compile information identifying the user personally.

The cookies used are: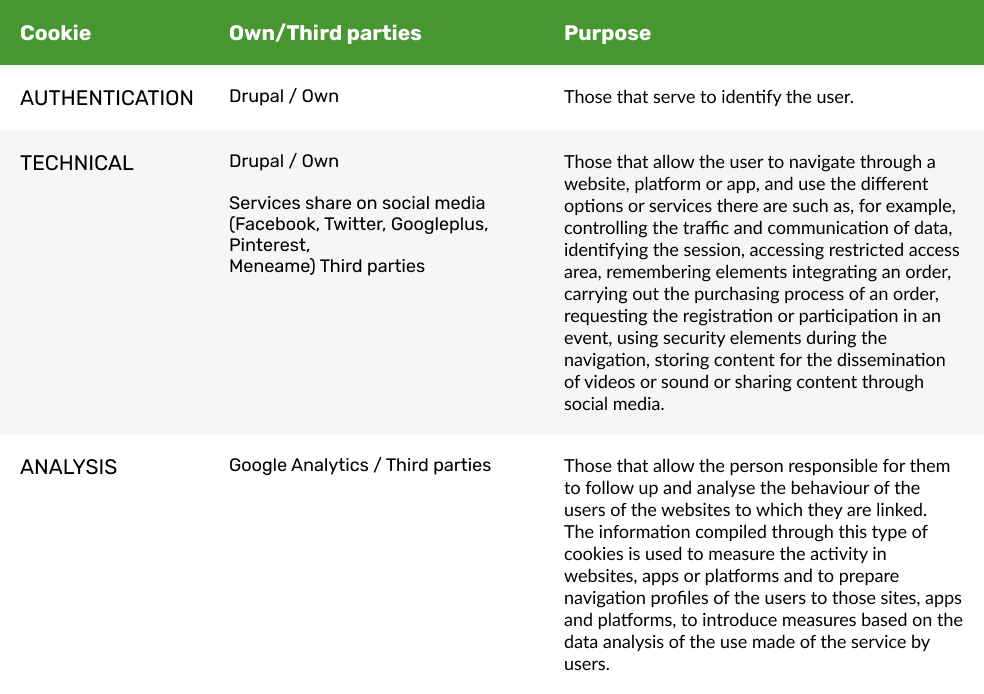 Accepting terms and conditions of use
When accepting the terms and conditions of use and accessing and using the site, you give your consent to use cookies. You may also give us consent to use cookies according to the configuration of your web browser.