We are a non-profit corporation that supervises the waste recycling put in the yellow and blue bins. We collaborate with citizens, public entities, and businesses to make recycling of domestic packaging a reality in Spain. Since 1996, we have worked to increase people's environmental consciousness and make recycling a daily habit in Spain, improving the quality of life for everyone.
Management at Ecoembes
Because of what it is, what it does, and what it stands for, Ecoembes believes that building trusting connections among all the players in the recycling ecosystem is crucial. And within this framework, good management turns into a crucial tenet and the foundation for creating a responsible business strategy that is in line with the suggestions and best practices of reference organisations and is overseen at the highest level.
There are significant issues to be resolved, and effective management is the only way to do it. Our steadfast dedication to ongoing progress in this area is expressed in a set of values, policies, and best practices. For everyone in the organisation, our code of ethics serves as a moral compass that motivates and directs behaviour. Internal policies provide us with the discipline to uphold each of our obligations. For the purpose of a circular future, active listening, conversation, and cooperation should be used in the various governing bodies and governance structures. Finally, the principles that enable us to represent our way of doing things, with integrity and purpose, are driven by our corporate culture initiative
Consult the Ecoembes Governance Model Manual for further details.
Estructura de gobernanza de Ecoembes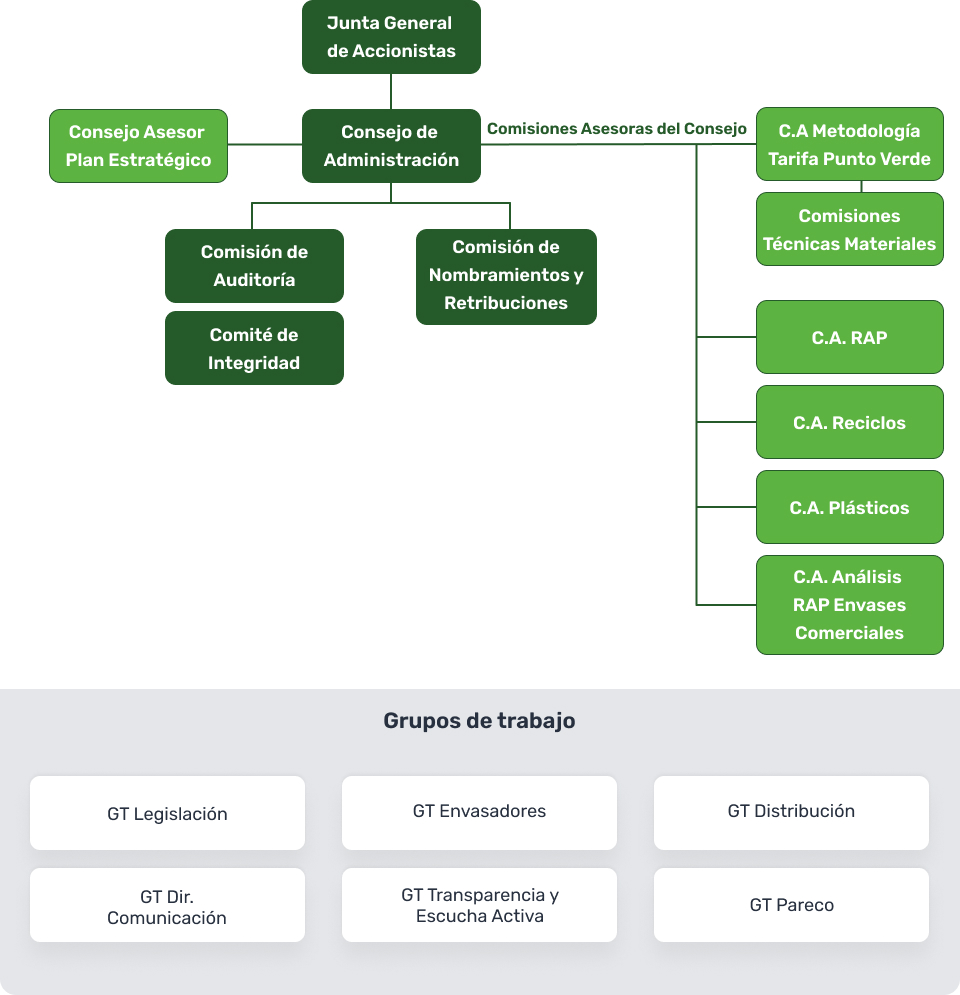 Our governing bodies, internal corporate governance policies, and internal control procedures are listed below.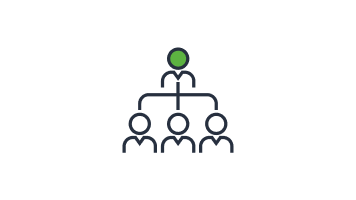 Órgano de gobierno Ecoembes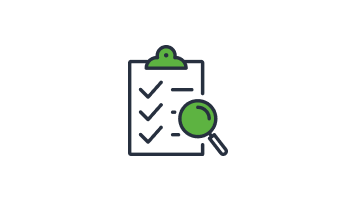 Normas internas de gobierno corporativo Ecoembes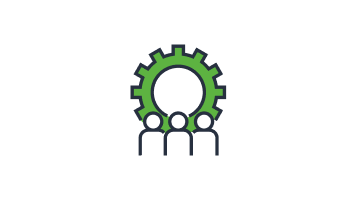 Mecanismos de control interno de Ecoembes
Governing Bodies
The principal governing bodies of Ecoembes are the Shareholder Meeting and the Management Board. Both embrace best market practices, using the highest standards and the National Securities Market Commission's (CNMV) Unified Code of Good Governance for listed firms as a reference, in addition to adhering to the obligations imposed by the statutes and current legislation.
All shareholders are represented by the governing bodies. This is Ecoembes' highest management body, where all shareholders convene to discuss and make decisions on issues within their purview or to receive information on other issues that the Management Board considers pertinent.
This group is in charge of managing Ecoembes. Its decisions must be made entirely in the best interests of the company, interpreted independently and with a focus on defending and protecting the interests of all shareholders, from whom it receives its authority and to whom it is answerable.
Its duties include selecting and overseeing the removal/dismissal of Board Members and Senior Executives, assisting the Chairman in the function of ensuring that the Board's obligations are met; establishing control mechanisms for transactions involving shareholders and Board Members, and defining, with the help of the Management with people- and organisation-related competencies, the remuneration policy for the staff and executives.
Risk management, internal and external auditing, reviewing the Annual Accounts, and advising the Management Board on the Company's internal control responsibilities are among its duties. In compliance with the guidelines of good corporate governance, its chairman is an independent director.
Oversees the way in which the ethics and compliance model is put into action, encourages the use of the Code of Ethics, and develops the standards that will be used to interpret it.
The CEO, who is in charge of carrying out the decisions made by the governing bodies, serves as the chair of the Management Committee.
The Ecoembes governance model is complemented by various governance structures proposed by the Board, which have a consultative nature. The objective of these structures is to achieve the maximum representativeness of the companies adhering to the system, since they are the ones that are affected by the decisions made in the system. The context of ambition associated with the imminent update of the regulations requires greater dialogue, listening, transparency and shared value.
                                                                      Governance Bodies
The goal of Ecoembes' CAPE, a new advisory governance body to the Ecoembes Board, is to guarantee compliance with the strategic plan and to align it with the interests of the organisation's many stakeholders (society, public administrations, and businesses).
By encouraging analysis and discussion about the strategic positioning of the company with a variety of high-level voices from outside the organisation, this advisory council hopes to increase the organisation's accessibility to experts and members of civil society and to the decision-making process of the Management Board.

The primary responsibilities of this body include:
To evaluate the regulatory, social, economic, and corporate background, as well as its relevance to Ecoembes' Strategic Plan.

To strategically evaluate the initiatives and projects carried out thus far in accordance with the Strategic Plan.

Determine how closely the Strategic Plan adheres to the expectations of the various Ecoembes stakeholders. To offer suggestions on this.

Within the context of the dimensions, central concepts, and projects, they provide lines of action and/or ideas for improvement in strategic topics that need to be activated or strengthened in order to respond to commitments, trends, milestones, or particular circumstances.
See its regulations for further information about the Advisory Council's nature, capabilities, operating, etc.
Lluís Recoder - Presidente del CAPE
Abogado especialista en Derecho Público, Urbanístico y Ambiental oscio en Recoder Abogados desde 2018.
Anteriormente Of Counsel Lawyer en KMPG España (2016-2018).
Consejero de territorio y Sostenibilidad de la Generalidad de Cataluña (2010-2013).
Begoña de Benito - Secretaria del CAPE
Directora de Relaciones Externas y RSC de Ecoembes.
Carlos Mataix - Academia Innovación
Director del Centro de Innovación en Tecnología para el Desarrollo Humano de la Universidad Politécnica de Madrid.
Profesor titular del Departamento de Ingeniería de Organización de la Universidad Politécnica de Madrid.
Profesor Visitante de la Science Policy Research Unit de la Universidad de Sussex.
Silvina Bacigalupo - Transparencia Gobernanza Jurídico
Catedrática de Derecho Penal de la Universidad Autónoma de Madrid.
Presidenta de Transparencia Internacional en España desde 2019.
Fernando Vallares - Medio Ambiente, Ecologismo
Doctor en Ciencias Biológicas por la Universidad Complutense de Madrid.
Profesor de investigación del CSIC, Director del Grupo de Ecología y Cambio Global.
Profesor asociado de la URJC.
Responsable de la sección 'Ciencia Crítica' de eldiario.es
Fernando Móner - Agente Social Consumo
Presidente de la Confederación de Consumidores y Usuarios desde 2008.
Consejero en el Consejo Económico y Social de España desde 2017.
Consejero en el Consejo Asesor del Grupo RTVE desde 2012.
Elsa Arnaiz- Perfil Generacional
Presidenta y Directora General de Talento para el Futuro.
Licenciada en Derecho, Relaciones Internacionales. Especializada en data y Business Analytics.
Miembro de Nova Talent.
Leire Pajín - Sostenibilidad
Presidenta de la Red Española para el Desarrollo Sostenible desde 2018.
Asesora en el Consejo para la Transición Ecológica.
Directora de Desarrollo Global del Instituto de Salud Global de Barcelona desde 2014.
Asesora Política del Programa de Naciones Unidas para el Desarrollo (2012-2014).
Vicente López - Agente Social Sindicalismo Empleo Verde
Director del Instituto Sindical de Trabajo, Ambiente y Salud (ISTAS-CCOO).
Profesor Asociado y colaborador en la Universitat de Valencia y la Universitat Oberta de Catalunya.
Wilfredo Miró - Agente Social Sindicalismo Medio Ambiente
Responsable de Medio Ambiente de UGT. Político y sindicalista.
Vicepresidenta de CEPYME (Confederación Española de la Pequeña y Mediana Empresa).
Presidenta de la Confederación de Asociaciones Empresariales de Baleares (CAEB).
Presidenta de la Comisión de Responsabilidad Social Empresarial de la Confederación Española de Organizaciones Empresariales (CEOE).
Jose María Bonmatí - Empresa
Director General de AECOC, Asociación de Fabricantes y Distribuidores.
Advisory Commission to the Council
The organisation has governance structures in the form of Advisory Committees to the Council, with the authority to analyse, advise, and make proposals to the Council, within the powers agreed upon in each case. This is done to help with the development of strategic issues or specific projects that call for it to ensure compliance with Ecoembes' mission.
The Advisory Committees' mission is to promote active listening and open communication with the business community through their most influential sectorial associations, fostering forums for discussion, active participation, debate, and consensus-building that support the deliberations of the Management Board.
Recycling Advisory Committee: provides assistance and guidance to the Board about the operation of the RECYCLING system and develops proposals on issues that are brought to its attention.

Advisory Committee for the Strategic Plastics Plan: provides assistance and guidance to the Board on Ecoembes' strategic plastics project.

Advisory Committee on Extended Producer Responsibility (EPR): provides the Board with support and advice regarding the new obligations that the regulation will impose on producers, as well as working on specific and strategic issues. The committee formulates proposals on the issues that are brought to it.

Advisory Committee for the Analysis of Extended Producer Responsibility (EPR) as it relates to Commercial Packaging: analysis of potential alternatives to the development of EPR for this type of packaging, with the goal of ensuring the model's maximum efficacy and identifying the best proposal so that the Council can subsequently decide whether a more specific development should be pursued.

Advisory Committee for Green Dot Tariff Methodology: its technical work served as the foundation for the Green Dot tariff proposal that was to be presented to the Board. The Green Dot Tariff Methodology Advisory Committee provided assistance and recommendations to the Board about the Green Dot Tariff Methodology and its computation.

Technical Materials Committee: Ascertain the Green Dot revenues required for the recovery and categorisation of the relevant material, for later approval, if necessary, by the Management Board, in order to:

-Make sure there is the appropriate accounting openness so that each item is responsible for its own expenses.

-Monitoring and managing the Strategic Plan (goals, initiatives and products).

 
Working Groups
Due to the complexity and specificity of Ecoembes' operations, a number of working groups have been established to share and examine pertinent information that might be of interest to the organisation, businesses, and associations:
Legislation Working Group. Monitoring all rules that have an impact on Ecoembes' operations and the recycling methodology for light household packaging. Working group whose goal is to come to an agreement on Ecoembes' stance on new legislation (European, national, or regional) or on a particular topic of interest. Members: Shareholders, businesses, and associations.

Packagers Working Group and Distribution Working Group. Enlightening working groups that meet every three months to talk about current challenges affecting Ecoembes' activities (regulatory developments, new projects, new services). Members: Businesses and associations.

Communication Director Working Group. Working group where the communication plan for Ecoembes is shared.  Members: Directors of communications for businesses and organisations.

Transparency and Active Listening with Public Administrations Working Group.  This group's goal is to keep an open line of communication amongst members of the public sector in order to discuss matters of shared concern regarding the disposal of household packaging waste. This enables the exchange of opinions on the difficulties associated with recycling as well as other pertinent problems that are occasionally put up for debate by the administrations themselves in two sessions each year.

PARECO Working Group: The purpose of the PARECO Working Group is to provide a new forum for communication and the exchange of useful knowledge on the management of household packaging and associated waste with the firms that make up PARECO's ownership. Discussing Ecoembes' 2019 plan while concentrating on the evolution of Green Dot Tariff.
You may get additional details about each of the governing bodies on our transparency site, which is accessible here:
Internal Compliance Standards
Ecoembes has a set of internal guidelines that control how the company operates. To enhance pledges and align interests between the company and its stakeholders, these are continuously modified to include the best practices of good governance and achieve more information openness.
Regulations
 The regulations´ aim is to specify the capabilities, makeup, and operation of the entify they control, and they were created in accordance with, to the extent applicable to he Company, good governance guidelines
*Pending registration in the Commercial Register.
Enviromental Awareness 
We have an enviromental mission. In order to ensure the long-term survival of the environment, our management and operational procedures protect the enviroment while aiming for economic and environmental efficiency.
We have created an Integrated Environmental and Quality Management System in accordance with UNE-EN ISO 9001:2015 and UNE-EN ISO 14001:2015 standards across all of our facilities and operations to help us accomplish our environmental goals.
Internal Control Procedures
Sistemas de gestión de la ética
Establece las bases del modelo de ética y cumplimiento de la organización y desarrolla las responsabilidades, documentación, procesos y controles necesarios para prevenir riesgos e implantar una cultura ética y de cumplimiento.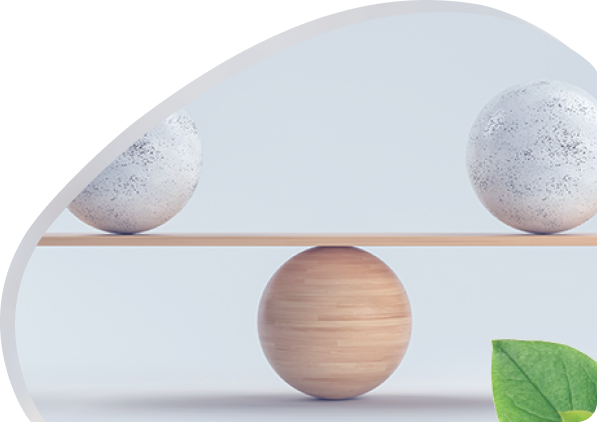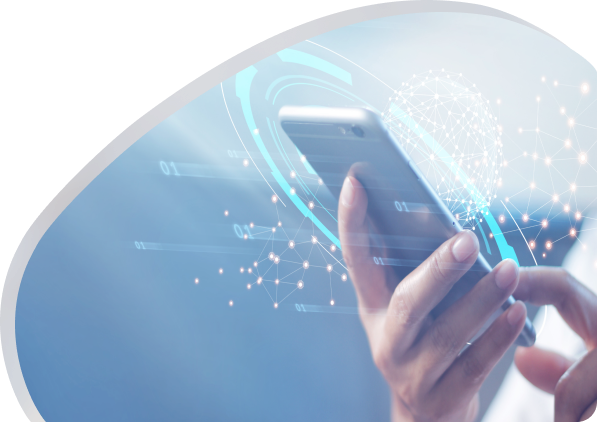 Gestor ético
Asiste a la Comisión de Integridad evaluando cualquier asunto relacionado con el Código ético; revisando su aplicación efectiva, la documentación y controles asociados a la misma; analizando las comunicaciones y consultas recibidas a través del Canal ético y reportando a la comisión de auditoría del Consejo de Administración.